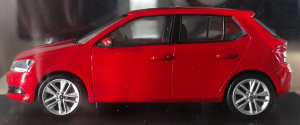 The first thing you notice about this car is that it's really an astonishing size for a supermini.  Just a smidge wider than its previous incarnations, it's a still a nice size for its class.  The car has the top-spec SE L trim, and comes in Corrida Red which is a non-metallic paint colour.
On the minus side, the door handles seem a little oversized compared to the rest of the car but the alloy wheels are very detailed and include the famous Skoda logo in the middle if you look hard.  The car comes complete with full-depth tread on its tyres.
Getting into the car was a bit of a squeeze, especially for the taller person, but probably not any better or worse than similar cars, and the mirrors were well-polished and bright complete with secondary indicators on the other side of the mirrors.
Inside, you get the traditional steering wheel in Onyx with the brushed dashboard and the black seats but also the Bolero infotainment system, which comes as standard on SE L models, mounted in the centre of the car.  The screen isn't that easy to read from a distance though.
As you might expect, all windscreen wipers are present and correct as well as the LED running lights and indicators, sidelights and headlights, as well as the fog lights mounted underneath and the obligatory Skoda badge on the front.  Fuel consumption on this car, when driven economically, is far in excess of some larger cars, and I think it's going to be hard to beat.
Boot space isn't as roomy as expected either, mainly because there isn't enough room to swing a cat in it, but for a car of this size you probably can't expect miracles.
Sadly, the engine didn't start very well when I tried to use the ignition, and it was quite hard to fill the car with diesel due to a smaller than usual nozzle, but unfortunately Skoda aren't able to fix this under the warranty.  Nevertheless, the car is amazing value for money and is available to order at either your local Skoda dealer or online, in a variety of different colours.